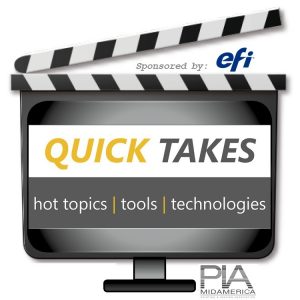 Quick-Takes Tuesday will now be given as a FREE webinar to members!
The print and graphics industry is changing fast. That is where PIA MidAmerica's monthly Quick Takes Tuesday webinars come in. Offered at no cost to you as an exclusive membership benefit, these member-only webinars feature expert speakers on a variety of timely topics. The series is sponsored by EFI.
For more details, click here to see more on UPCOMING EVENTS!

ABOUT EFI — EFI, the industry's leading provider of productivity software designed for efficiency, automation, revenue generation and sustainable profit improvement, is proud to sponsor this PIA MidAmerica thought-leadership webinar series. Learn more at www.efi.com.
ABOUT PIA MidAmerica – PIA-MidAmerica (Printing & Imaging Association of MidAmerica) is a regional graphic arts trade association serving a diverse group of firms in Kansas, Western Missouri, Oklahoma and Texas. The Association provides a variety of corporate and employee benefits to nearly 500 companies and their 14,000+ employees. PIA-MidAmerica is a regional affiliate of the Printing Industries of America, the world's largest graphic arts trade association.