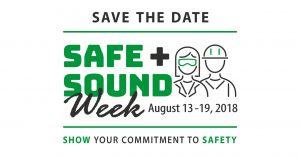 SHOW YOUR COMMITMENT TO SAFETY
PIA MidAmerica is participating in the 2018 OSHA Safe + Sound Week and so should YOU! This event is a nationwide event to raise awareness and understanding of the value of safety and health programs that include management leadership, worker participation, and a systematic approach to finding and fixing hazards in workplaces.
Why participate?
Safe workplaces are sound businesses. Successful safety and health programs can proactively identify and manage workplace hazards before they cause injury or illness, improving sustainability and the bottom line. Participating in Safe + Sound Week can help get your program started or energize an existing one.
To kick off Safe + Sound Week PIA MidAmerica is offering one-hour safety consultations for printing and bindery companies (at no charge) in our region of KS, MO, OK, & TX. This is a great way to see what concerns your company needs to address should OSHA make a visit. Contact Teresa Campbell at TeresaC@piamidam.org for more details.
If you have a strong safety program we want to know about it! Snap a photo of your workers during training or showing their safety skills and email it to Teresa at the email address above.
PIA MidAmerica staff will be out visiting members during Safe + Sound Week so let us know if your organization signs up to participate or is planning to host an event!
For more information on OSHA Safe + Sound Week visit https://www.osha.gov/safeandsoundweek