Slow Pay/No Pay Credit Exchange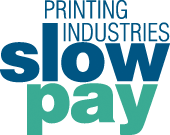 Our Slow Pay Report is a valuable tool that can prevent your company from experiencing the pain and economic loss of dealing with businesses who traditionally do not pay their invoices on time. Though most of us have to learn the hard way, our Slow-Pay/No-Pay exchange service can help you make an informed decision about what companies to avoid.
This service can be an excellent source of information when researching a potential customer's payment practices. Members who participate in this program agree to exchange information, on a confidential basis, of accounts which are slow pay, are being disputed, or are not collectable.  Our Slow-Pay/No-Pay exchange service has already helped thousands of business owners just like you and is well worth the cost.
To subscribe, contact info@piamidam.org or login below to the Printing Industries Slow Pay service!
The Printing Industry Credit Bureau is a licensed and bonded commercial credit & collection agency dedicated to the Graphic Arts Industry. PICB works to assist its members to collect outstanding accounts receivables. Our president, Ms. Andrea Schlack, has been at PIA MidAmerica for over a decade, and has a very long and substantial list of successful achievements. In 2009, she and her staff helped Graphic Arts companies throughout the U.S. collect over $1.5 million in outstanding accounts receivable debts.
PICB provides top quality, dedicated services to the members of The Printing Industries of America family that are highly affordable. In addition to account collections, PICB can help resolve sensitive cases where clients wish to maintain a positive on-going relationship with their customer. In 2009, our service was able to assist in the recovery of half a million dollars.
PIA MidAmerica members receive special pricing and lower rates that non-members. (PIA member discounted rates are 18% compared to the typical rates of 25-30%).  Contact Andrea at 847-265-0400 or at Andreas@picb-us.com.